2010-11 Playoffs Round 3 Game 2. Charlotte v Boston
The Bobcats were angry about the previous game which they lost. As a result the Cats shredded the Celtics shamrocks to the tune of 42-39. The game was very close in the first half with neither team making a statement. That changed in the third when the Cats jumped out to a 31-19 lead and never looked back. The Celtics came within 8 in the fourth before the final Cats run.
Odd Stat: Shaq. 0 points, 1 rebound, 1 assist, 2 blocks, 0-1 FG in 15 minutes.
New Feature here. Slideshow! credit for the idea goes to Theirry!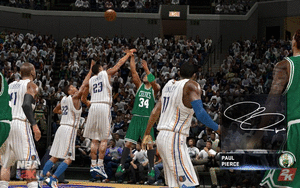 Game 3
The Bobcats continued their shredding of the shamrocks by defeating the Celtics 58-36. The Bobcats jumped out to a 13-3 lead in the first quarter before the Celtics went on a 12-6 run. The Celtics were never able to get any closer. By halftime the Cats lead was up to 13. By the end of the 4th the Cats led by 16. The Celtics were not to give up and this was evidenced by Rondo getting called for going over the back early in the fourth quarter. It was too bad that ROndo did that for he injured his ankle when he came down. He will play hurt for 1-2 weeks. From that point on the Celtics had no chance.
Odd Stat: McRoberts was the only Cat not to score.
New Cards